Clinical manager, Surgical Neurophysiologist, Pain researcher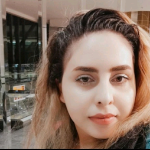 "Hani" Seyedeh Haniyeh Mortazavi works in both Australia and her home country of Iran as a neuromonitroing specialist. Harnessing her strong background in radiology and as an A&P educator, Hani provides intraoperative neuromonitoring services, deep brain stimulation microelectrode recording navigation for Parkinson's patient treatment and has a zest for research. She is also a talented writer, and is working on a series of parables in the "Once upon a time" theme to serve as teachable stories for the neuromonitoring community.
Check back in the near future as we hope to share some of her work!
Podcast: Play in new window | Download